Beachfront Boutique Hotel
Located 45 minutes south of Cancun and 10 km north of Playa del Carmen, Le Rêve Hotel & Spa is a seaside jewel at the Caribbean Sea with a unique collection of 25 rooms, with the perfect blend of nature, peace, comfort, culinary delights and Mexican hospitality.

Whether you decide to relax and be pampered with your family, friends or with your needy soul, Le Rêve Hotel & Spa is the ideal place to make your dreams come true as you ever imagined.

Le Rêve Hotel and Spa is delighted to ensure the following services to its guests to provide them with a unique experience during their stay.
Infinity pool.
Spa treatments *.
Private beach.
Restaurant.
Bar.
Snack bar.
Gardens.
Internet access *.
Money exchange.
24hrs. Concierge service
Car rental service*.
Parking free.
Airport transportation*.
Wakeup call.
Laundry / valet / dry cleaning service*.
Medical service*.
Babysitting service *.
Multilingual staff (English, French, Spanish and German ).
Pets are not allowed.
** Extra charge may apply.
The entire property is designated as a smoke free environment. Smoking is not allowed anywhere in the buildings, on the property or the grounds, except for the designated smoking area.
Our staff is dedicated to providing personal attention, and anticipating your every need. We are happy to schedule activities, offer advice on local restaurants, shopping, yoga classes or anything else you may be wondering about.
Airport Transportation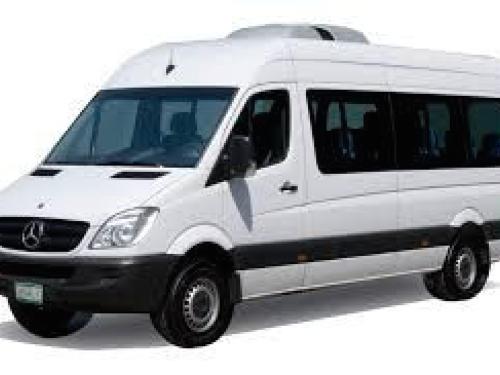 Allow us to receive you at the Cancun´s International airport and take you to the hotel. Our service offer complete relaxation from the moment you arrive, as well as for your departure.

The service must be book at least 72 hours before your flight to Mexico takes off.If your take off is in less than 48 hours please email our Concierge Team concierge@hotellereve.com or call us+52 984 109 56 60 to book your transportation.
Romantic dinner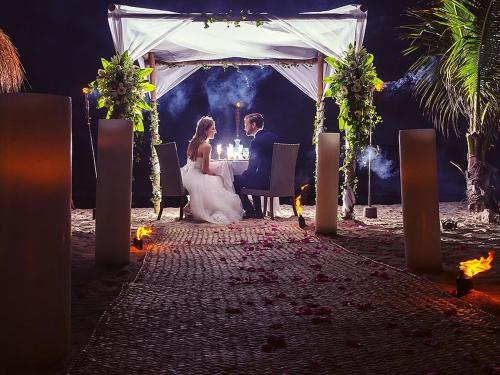 Make unforgettable moments with a private romantic dinner on the beach, this will be an experience life. Just imagine the picture, sunset, warm weather, your welcome cocktail, and that special and romantic atmosphere you will enjoy with your belove.
Photo Session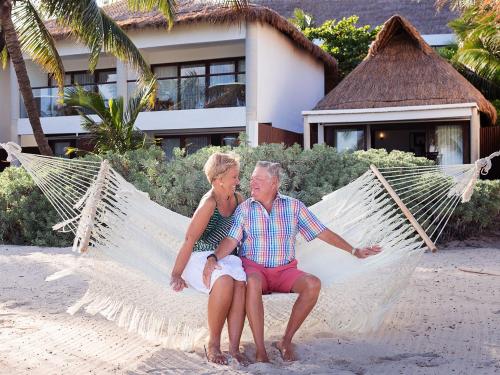 You are here to enjoy your vacation, to make memories together. So, while you?re seizing the moment, let us capture the magic. Schedule your magical Portrait Session to make those memories last a lifetime
In room- Special Decoration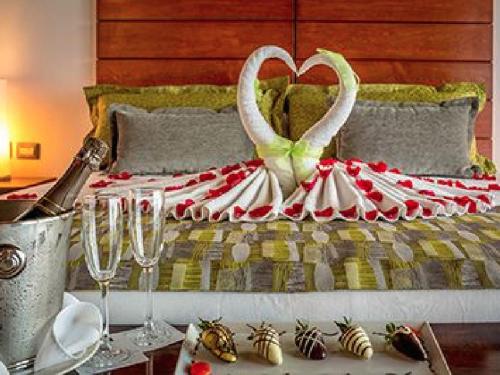 Surprise your soulmate with a romantic moment to remember. Find your room with with rose petals decoration, strawberries and a bottle of sparkling wine
Spa treatments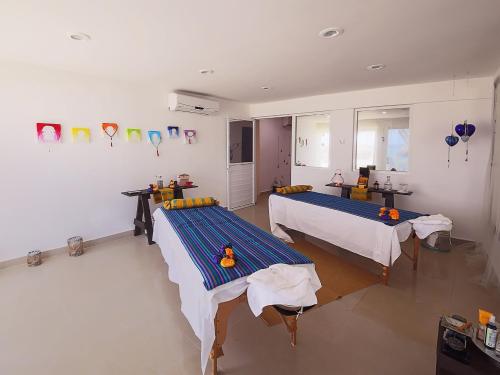 Le Rêve Hotel & Spa in
Playa del Carmen
has an interior space for wellness and relaxation for the mind, body and spirit while enjoying your stay in the
Riviera Maya.
A variety of treatments are offered in a secluded garden and beach area with a mix of nature and peace, this space has been designed to create the perfect environment to enjoy your holidays.
Luxury Treatment Collection
Back & Neck Anti-stress
Swedish
Sport
Aromatherapy
Samunprai
Exfoliation
Facial Collection & Nails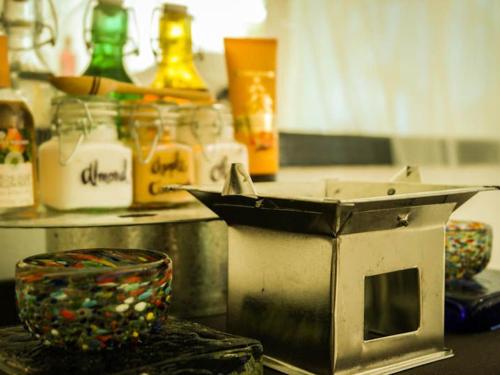 European
Men´s facial
Luxury
Manicure
Pedicure
You name it, we do it!! The sky is the limit.
You name it, we do it!! The sky is the limit.